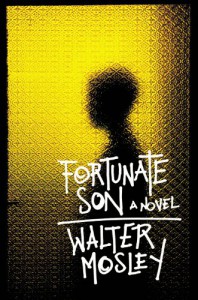 This is a difficult book. I'm not sure how to classify it, is it magic realism? It's quite good, but a bit unsettling. But, the point, for me, in reading Mosley is to be unsettled. Mosley writes extremely well, but tells me how life is from the perspective of African Americans. It's a life I need to understand.
Anyway, we have Thomas Beerman, an African American who was born with a birth defect and spends the first six months or so in a glass box. His mother, Branwyn comes by every night to sit with him, and when he's awake, to interact with him. She always stays until late at night, when the hospital folks send her home.
Dr. Minas Nolan is a heart surgeon (white) at the hospital who works late so as to forget his sadness in having lost his wife during childbirth. She bore him a son, Eric, who is big, blonde and healthy, pretty much everything Thomas is not. Eric has a Vietnamese nanny, Ahn, who suffered much tragedy as a young girl in Vietnam, but learned that keeping running along was the only way to survive.
Eventually Dr. Nolan notices Branwyn and offers to drive her home. They strike up a friendship, which eventually leads to their merging their families. Branwyn becomes a de facto mother to Eric, the only person who can console him when he is unsettled. Eric and Thomas become brothers, real brothers. They share experiences. Eric has great intelligence and physical skills, Thomas has amazing insight. They support each other.
But after five or so years, Branwyn gets sick and dies. Thomas' biological father shows up and claims "ownership" of Thomas and drags him off. Naturally, things don't go well, and soon Thomas becomes homeless and fends for himself for a number of years. The experiences he has are truly awful. Basically, he becomes a victim of the broken social services system. But, mostly, he's happy. He's very interested in life, in bugs and birds and stray dogs, but also in people, often stray people. He essentially teaches himself to meditate on his dead mother and communicates with her.
While Thomas is homeless, Eric is becoming an academic and athletic star of life. Throughout the book we switch back between Eric's charmed life and Thomas' seemingly cursed life. But Thomas knows how to find contentment and Eric does not.
Well, I don't want to summarize the plot further, but it is surely worth following these lives to their enigmatic conclusion.
One of the things I really appreciate about reading Mosley is that he never fails to challenge me as to the meaning of "family". Very clearly, family is more than the Dick and Jane or Leave it to Beaver models of my youth. Thomas and Eric were clearly brothers in the truest sense even though they didn't share an iota of common ancestry.