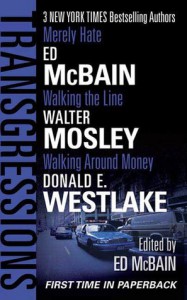 This book has three stories, novelettes perhaps, one each by Ed McBain, Walter Mosley, and Donald E. Westlake. Sounds fun! The down side of this book is that it only counts as a single book on my reading list. 'Twould have been much nicer to be able to get three books checked off for the year. Oh well, it was all still fun. Also, I learned by reading the introduction that the items are now called
novellas
. Apparently, the term
novelette
is so yesterday, or something. A short story is something like 10,000 words, a novella more like 40,000 words and a novel 60,000 words or more.
Walking Around Money by Donald E. Westlake
Dortmunder and his buddy, Andy are recruited to help in a heist. They're not sure if the guy hiring them can be trusted or not. So they're careful. It's a can't miss scheme to abscond with oodles of foreign currency that cannot be traced from a printing plant up state. A pretty fun caper it would seem, but can their associate be trusted? As I've always found in the past, Dortmunder is a fun character who is always involved in interesting, and quirky, capers.
Walking the Line by Walter Mosley
An African American young man, Felix Orlean, takes a job as a "scribe" for an anarchist, Archibald Lawless. Somehow they get enmeshed in a jewel heist. Some of the other parties in the heist end up murdered. It's all kind of weird and surreal. I'm not sure I understood this story very well. I think Mosley is over my meager head, or something.
Merely Hate by Ed McBain
Basically a standard police procedural, which is an Ed McBain staple. This time, muslim cabbies are being murdered in their cabs with blue stars of David spray painted on the windshields. As one might expect, this creates racial tensions between the Muslim and Jewish communities of New York City. The 87th precinct investigates and eventually gets it all worked out, all the while entertaining us with their day-to-day repartee.