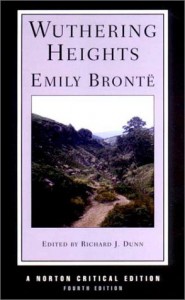 God, this was bad. I'd read it before, many years ago, and didn't realize how lame it was. It read like it was written by a middle schooler, perhaps a goth girl, certainly no one who had any sense of human nature. I can't for the life of me understand why it has remained a literary classic. I guess it must be a favorite of depressed 13-year old girls...or something. Please, God, don't ever incline me to read this garbage again.
Part of the problem with this book was that there wasn't a single likable character in the whole novel. In fact, I don't know when I've ever read a book that has so many assholes in it. Makes you wonder what life was like at the home of parson Brontë.
Then, you had fully improbably things like women having fits of the vapors for months on end, then suddenly having babies, and no one appeared to have the slightest inkling that such a "blessed event" was likely to occur. So, rather than taking care of a pregnant women, they continued deviling them by their brutish nastiness. WTF?
In theory, love and romance figure heavily in this book, but it appears from the writing that Ms. Brontë doesn't have a clue as to what love and romance actually entail.